Luxury Wedding Gown-Pearl-studded wedding dress may have been normal. But what if the number of pearls reaching 99,999 units. Peng Yu, a man from China, spent a year decorating her wedding dress in order to make her fiance was impressed.

Number nine he was selected because in Chinese has the same pronunciation with the 'long-term or forever'.
He offered the dress for his fiancee, Yang Pingzhi, as an illustration that love eternal. He successfully made his fiancee moved 12 April 2011 when the marriage last.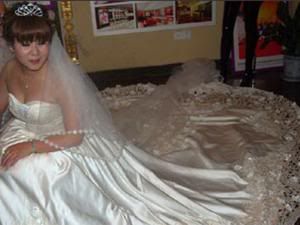 To make the dress, Peng Yu visited the manufacturer of pearl in Beihai, Guangxi province, parts of South China. "Two years ago, when Yang agreed to marry me, I began to think what would surprise me give it to him," said Peng Yu, as quoted from orange.co.uk.
Peng then decided to make a special wedding gown. He asked for assistance from Hong Kong fashion designer to create wedding gowns and buy genuine pearl 99,999 to decorate it.
He sewed thousands of pearls with the help of seven friends. It takes one year to complete. With that much pearl ornaments, dress reaches nine-kilogram weight.......