Bridal Hairdressing-Today brides prefer a more natural hair makeup both bride with a dress for international. Mini bun with a large flower decoration and small, or hairstyles that diriap (for the hair) length, also a favorite. Even if your hair curly hairstyle can apply it, because you just add accessories like hair clips or flowers. The result is a beautiful Romanesque style.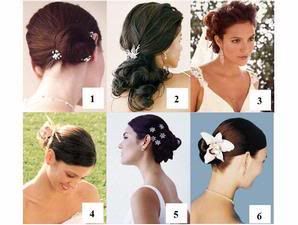 Below is a hair makeup that you can copy:
Asymmetric Chignon
You want to create a mini bun or break off without having to look uniform with your bridesmaids? Make a break off that do not fit in the middle. This style makes a more romantic look (photo 1).
Loose, Low Pony
This relaxed style suitable for your wavy hair. Hair clips will keep the strands of hair is not covering the face, although tongs made ​​not too tight. Blow-dry your hair, then pull back. Use a curling iron to create a more sexy curls (photo 2).
Pinned Updo
Curly hairstyle was made with pinned in some places so that curly hair scattered in several directions (photo 3).
Simple Chignon
Insert a flower into a mini bun you to make use within the style is simple but quite formal (photo 4).
Floral chignon
Chignon or break off is the most elegant bridal makeup today, makes it also very simple. Insert flowers big enough to add a touch of sweet (photo 6).