Wedding Makeup-Tina Andrean, famous wedding dress designer, providing beauty advice to women before their wedding day in the book A White Dress Story. One of the most important parts to look beautiful on the wedding day is the facial skin. So, what to do?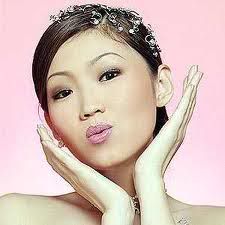 -Perform facial treatments for at least 6 months before the day of H. It is necessary to lift the skin of dead skin and blackheads.
- Do not do facial treatment 10 days before D-day to prevent scars and let's face recovered from the wound (if any).
- Drink lots of water to create a bright face and damp.
- The color of the right foundation is the key to your beauty, then the make-up test with the makeup as often as possible is very important. Choose a foundation color that most resemble the color of your skin.
- Try to appear natural.
- Request for the permanent makeup artist standby near you on the
wedding day
. When his time taking pictures, asking it to provide extra loose powder to your face do not look "sleek" as the oil in the face.
- Use lip balm with vitamin E a few days earlier to prevent chapped lips.
- Overcome the dry skin on the lips by gently rubbing the lips using a toothbrush that has been soaked in warm water.
- Use a brightly colored lipstick. Nude lipstick or chocolate it will make you look pale in the photo, especially if you wear a white wedding dress. If you do use a natural colored lipstick, add a little rose-colored lipstick. Meanwhile, if you use a dark lipstick, mix a little pink lipstick.