Elbow Length Veil - Just as the name suggests, this hood model extends to the elbow. It might consist of only a single layer or 2-3 layers of the cut the same length. His style is simple, still showed its sweetness to be worn in all kinds of dresses and wedding concepts, formal or semi-formal. Application in strapless gowns give the impression of very modern. If you want to switch to the retro concept, blend mini dress you can make other alternatives. Never marry with super tight dresses, as well as dress-tailed. Seen in contrast, like dark red color blends with the green young.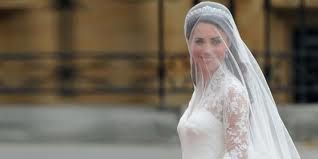 Fingertip Veil
- One of the veil of the most popular models. Model hood extends to the fingertips of the bride. The model is very good and veil can be combined perfectly with bermacan-kind wedding dress model. Its length is quite convenient to model this veil can be worn throughout the ceremony and reception session.
Ballet Length Veil
- Model length veil was hanging down to the ends of the bride's ankle but not until it touches the ground. Model this veil covering almost the entire body of the bride to form an impression of a robe. The model is also very appropriate hood combined with a wedding dress without tails.