Pretty Simple Bun-Look more beautiful can you get not only the clothing you wear, but also of hairdressing. If you get bored with your hair down, no one hurt you occasionally look different with the order of modern bun.

Hair with a bun is usually applied when you wear the national dress or kebaya. However, as the fashion world, bun also experienced a metamorphosis. If the first bun made ​​of pine or hairpiece with a certain grip, bun now appear with a more simple style.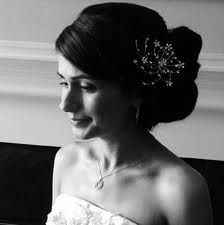 No wonder the modern chignon can order more freely to accompany your style, either to a formal party, gathering, or to the office though.
Do not be afraid to experiment. But most importantly, adjust the knot with model and shape facial shape. And you should try to stay fashionable and modern setting.

For a round face and squar
e, it would be better to do in order to generate corrective hair bun form that is proportional to the shape of the face. In order to face so balanced, add volume on top of his head with hair menyasak more in that section. For those of you who have thin hair, comb and groom with the help of an aerosol hair spray or wet without a bun that looks more natural and mild impressed.