Wedding Hall-Once you determine the date of the wedding, soon find the building you like. Now is also a lot of couples who are looking for an empty old building, new building of the schedule that they set a date for her wedding.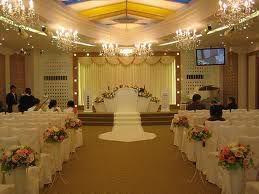 Some important tips about hunting the building:
1 Choose a building located within easy reach,
both by family and most guests. You can search on the internet, now many blogs and websites that include your name and contact personnya building. Phone directly, not through e-mail because the response will be long. Phone and ask for the rent and whether the dates of your building is still empty or not, record one by one on your mini-notebook.
2 Determine the budget for the building
, matching the location and day of the vacant building
3 After a search of the building on the internet or via the conversations of people, you should visit the building, to get a clearer picture in preparation for the event.
4 Consider whether the building requires that you use a vendor partner of the building, such as catering, photography, entertainment, etc.. Usually the building wearing a high charge to vendors who are not partners, then you should select a partner with the building, of course with the quality that you think are satisfactory. If the family already has a family subscription vendors, and partners were not building, you should set aside to pay the charge is more building.
5 After the deal with the building that you are getting married there, you can pay a deposit to register your name. 1 month to 2 weeks before the event (usually here already have repayment cost of renting the building), you should call back the building to re-check whether your name is actually already registered
6 Two weeks before the event, if possible, hold a technical meeting in the building immediately, to find out more detail about the order, laying decor, catering tables, etc.. Vendors that can be included in the technical meeting, among others, representatives from the photos, representatives from the catering, the representative of the Wedding Organizer and entertainment, the representative of the decor, and representatives from the building manager.