Wedding Dress 2011-What kind of trends in wedding dress in 2011's this? syalifa also still posts about Muslim dress a few moments ago. but it seems the trend of the 2011 wedding dress leads to a model more cocktail-style dresses and romantic ruffles. well here is little information that we have quoted from wolipop about the hot trends in wedding dress in 2011. Hopefully the following trends can be useful for determining the prospective bride in their wedding dresses.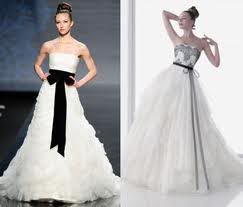 1. Touch of black accent
The combination of black and white wedding theme it is becoming a trend of 2011. So is the wedding dress. Today many brides who choose to use black in the special day.
But if not like the color black, you can choose to use a combination of black and white. Design work of Clara Rosa for example, he uses a black velvet ribbon of material to detail waist wedding dress collection.
2. cocktail style
Wedding dress cut short and stylish cocktail became a big trend this year. This type of wedding dresses accentuate the beauty of feet and showed a youthful for his bride. Simple and elegant is what is described. However, this type of wedding dress, more suited worn on a casual wedding.

3. Romantic Ruffles
In recent years, the wedding dress ruffles berdetail become the favorite choice of designers. Ruffles add volume to your wedding dress, so it looks fluffy beautifully. This dress is appropriate for the bride who wants to create the impression of dramatic, romantic and feminine on her wedding day.