Unique Wedding Gown-Most people use toilet paper just as a hand dryer or sex organs. However, in the hands of the women who have high creativity, toilet paper can be transformed into various models sexy wedding dresses beautifully.

This then developed into an interesting contest. Sponsored by a site Cheap-Chic-Weddings.com, readers are given the opportunity to create their dream wedding gown. For those who make a wedding dress made ​​from toilet paper with the best creations are entitled to win money worth $ 1,000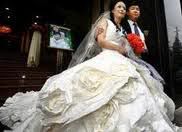 As quoted from pages
Shine
, participants contestants do not actually have to make a wedding dress. Those who create beautiful and unique clothing can get a gift a few bucks.
This the best fashion creations could be sold and bought with coupons. The competition titled "
The Toilet Paper Wedding Dress Contest
" is an annual event and has been going seven times.
This year, Susan Brennan's wedding dress design successfully won the first prize. He carries the theme of Orchard Lake.
Brennan takes four rolls of toilet paper is transformed into a beautiful wedding dress. He also added accents of gold ribbon attached with hot glue to form a net, feathers and flowers.
It took a week to make it but it only takes three seconds to tear it up. Curious to see the creations of the best contestants of The Toilet Paper Wedding Dress Contest