Luxury Wedding Gown-Marriage is a sacred moment the most important in life. The importance of the moment would make the prospective bride and groom want everything perfect.
One who prepared a wedding dress that is synonymous with luxury and somewhat fantastic prices.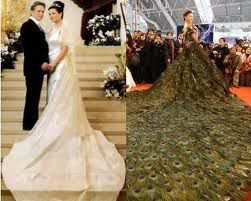 Well, here are a few collections in the world's most expensive wedding gown made ​​from diamonds to the peacocks.
Diamond wedding dress
Martin Katz jewelry designer and owner of the famous salon in Beverly Hills, Rene Strausse create a wedding dress that came to be known as the Diamond Wedding Gown in 2006. This dress is listed as the world's most expensive wedding dress because its value reached Rp102 billion. The dress is made ​​from 150-carat diamond.
Mauro Adami wedding dress

The Italian designer, designing wedding dresses Mauro Adami was in 2008 as part of the Domo Adamicollection. Luxurious wedding dress is made of platinum 40 meters long. The dress is sewn with silk threads and platinum is worth about U.S. $ 380 thousand or approximately Rp 3 billion.

Wedding gown Catherine Zeta-Jones
When married to Michael Douglas on November 18, 2000, actress Catherine Zeta-Jones wore French designer dress, Christian Lacroix. Dress with a tail that extends for six feet or 183 cm's value reached U.S. $ 1.5 million or about Rp13 billion.